The Best Quality Stone Floor Cleaning, Stone & Tile Floor Tile Polishing, Restoration & Sealing Service!
Stone Floor Cleaning Durham
If you need Stone floor cleaning Durham, our company can serve you.
Our qualified professionals have been restoring Stone tile floors in the Durham area upwards of 2 decades..
Get a completely free, without obligation Stone floor cleaning quote off the reputable industry experts..
Give The Size And Sort Of Stone
More often than not the dimensions and variety of stone, plus a number of images showing the condition of the floors will be all we need.
We shall email a detailed price once we have cleared up your needs.
Stone floors can often have a range of finishes, therefore we will include alternatives to suit most budgets.
We will also send a document detailing pictures of comparable work.
We visit on time and prepared for work.
We will do a great job
Why You Ought To Contact Abbey Floor Care
We appreciate your investment in stone floors and our stone floor cleaning Durham service will help you to maintain its splendor over time.
Our team has been delivering stone cleaning, polishing and restoration solutions since 1996.
Fill in our simple contact page for a free natural stone restoration quotation.
If you are uncertain of just how to take care of your stone floor, drop me a line and then we can provide you the best advice.
Following restoring a tile and stone floor, we provide a detailed maintenance program.
Contact Us Now! Schedule a quotation for your stone floor cleaning Durham
Our Professional Stone Floor Cleaning And Restoration Services In Durham Revealed
Marble Polishing Darlington
Marble ultimately looses its original shine. This damage to the surface is caused by foot traffic scores and etch marks Gradually, the marble will need to be re-polished.
Diamonds are used to take away the damage and recover the initial shine.
If your floor has been laid with jagged tiles, this might be known as "lippage". The only way to make a marble tile floor smooth is by grinding off the lippage and jagged edges of the tiles. It is a complicated process nevertheless the results are spectacular.
Following grinding, the marble will be the same level the grout. The marble will get a monolithic appearance as a single area of stone.
Cleaning a ground and polished marble floor is much like cleaning just one bit of glass. There are no grout channels to retain dirt. Marble restoration typically involves some crack and chip repairs, using marble fillers. We will advise the appropriate restoration service.
Travertine Cleaning Hartlepool
A Travertine floor is a kind of Limestone. There are different kinds of Travertine floor tiles, including honed, polished and tumbled. As the travertine wears, the hole filler comes away, and the holes fill up with unappealing soil, dirt and mopping water.
Working to the highest standard, restoration Companies use rotary scrubbing machinery and pressure rinsing to clean the Travertine floor.
After cleaning, any open holes on a Travertine floor can be filled up with coloured grout. Following cleaning and grout filling we apply hard-wearing sealers.
Limestone Cleaning Stockton-on-Tees
In time, Limestone will be worn and loose its polish. This surface damage is brought on by foot traffic scratching and etch marks The best way to restore the original shine is by polishing the floor. We use diamonds to remove the scratches anddamage and restore the gloss.
If the tiles are not even, perfectly even this problem is referred to as "lippage". We can grind off the irregular tile edges, making the floor surface perfectly flat. You need dedicated machines and years of grinding and polishing to grind a Limestone tile floor, however the result is amazing. The Limestone floor will get a monolithic appearance as just one piece of stone.
After grinding, the grout sits at the same level as the the Limestone tiles. A smooth Limestone surface is much simpler to maintain. There are no depressed grout lines to hold dirt. Chips and cracks can be filled with colour matched resin fillers. After checking out the floor, we will advise the best Limestone restoration service.
Terrazzo Polishing Durham
Terrazzo is a nice-looking yet durable flooring, hence its use as a flooring in supermarkets, airports, commercial and industrial buildings. The initial finish on a Terrazzo floor will progressively go dull. The change in appearance is caused by microscopic scratches on the surface where it was walked over.
Terrazzo Polishing is the best way to revive finish to the highest standard. We use diamond polishingto bring back the initial Terrazzo shine. We can help to reduce this soil with Terrazzo sealers.
Granite Polishing Chester-le-Street
You will get granite in a lot of homes and commercial buildings. Granite is incredibly hard.Granite is commonly selected because of the stone's hard-wearing attributes. Granite needs less frequent professional maintaining compared to other stone.
Granite is so hard, that lots of companies do not have the gear or experience to revive it. We offer the full range of Granite polishing and restoration services. to the highest standard.
Sandstone Cleaning And Sealing Billingham
Sandstone is made mostly of quartz, iron oxide, silica and calcium based deposits so it is a very stable stone. The voids amongst the sandstone grains trap dirt that may be difficult to remove.
We use a rotary brushing machines, coating removers and pressurised rinsing to clean the sandstone Then we use specialist sealers that will last for a long time not months. The specific restoration needed should be based on the healthiness of your floor.
Slate Cleaning And Sealing Peterlee
Slate is a remarkably versatile flooring that can be protected using a number of finishes including rough surface, smooth honed or polished finish. Slate floors need regular sealing to avoid spills and soil marking the surface.
We use a mix of machine scrubbing and hand scrubbing to get rid of all traces of previous soiled sealers and clean the slate. After professional cleaning we put on durable sealers.
If you prefer a smooth floor, we could grind the ground, subject to your slate being suited to grinding.
Terracotta Cleaning And Sealing Thornaby-on-Tees
Terracotta is manufactured out of natural clay and historically has been used for roof tiles, sculptures, bricks and floor tiles.
Standard Terracotta sealers will need frequent upkeep and re-sealing, if they're not looked after, the top will quickly get dirty and become porous.
Heavy duty sealer removers and cleansing agent help to remove old sealers and dirt, while also conserving the attractive finish.
Whilst we are able to seal Terracotta with Boiled linseed oil and wax, we advise a durable synthetic sealer that will work for years, with minimum maintenance.
Victorian Minton Tiles Cleaning And Sealing Newton Aycliffe
Period Geometric or Encaustic floor tiles are found in Victorian and Edwardian hallways.
The tiles have a matt finish and acquire their colour from the clay found in their manufacture.
Due to how old they are, these floors have had a lot of wear and often have layers of different sealers.
Cleaning these floors can be challenging because of the variety of old sealers and covering residues.
After cleaning an impregnating sealer is put on to improve the colours and protect the tiles. A topical sealer or wax finish can give the tiles with a low-sheen finish.
Cleaning Quarry Tiles Corsett
Quarry tile flooring is generally many years old and often needs a full professional clean and restoration to restore it back into life.
Surface damage like scratches along with other abrasions can occur if the tiles haven't been correctly sealed or the existing slealer has worn away.
A specialist clean and reseal is often just enough to restore a quarry tile floor. After cleaning, the tiles should be protected with a lasting sealer.
Porcelain Tiles Cleaning And Polishing Bishop Auckland
Porcelain is categorised as a ceramic, but made with different materials than conventional ceramic tiles.
Porcelain is very moisture-resistant, so spills are unable seep into the tile and cause stains.
If Porcelain is not produced properly, the surface can be absorbent just like natural stone floors. If you have an inferior Porcelain, the surface soil may be hard to remove.
We possess the equipment and experience to eliminate this difficult to reach soil.
We will help minimize this soil using Porcelain sealers.
If you've got a solid colour Porcelain, we could re-surface the tiles by Grinding and re-polishing.
Ceramic Tile And Grout Cleaning Service Seaham
Professional cleaning of Ceramic floor tiles is generally less complicated as compared to natural stone floors cleaning..
This glazed finish speeds up mopping.
However, you can expect to still get better results with specialized materials and equipment.
Once your ceramic tile is cleaned we will use a sealer. Maintenance is much easier by having a sealed floor, additionally the sealer stops spills becoming stains.
Stone Cleaning And Natural Stone Restoration. Stanley
Natural stone cleaning often calls for additional restoration services. Natural stone floor restoration may take many forms. At least, all stone and tile bear some kind of generic damage. In many cases, soil, spots and traffic scuff marks affect the floor finish, hence the importance of stone restoration. A polished granite or marble floor wears faster because traffic abrasion that will quickly scratch he polish and dull the sparkle. A surface sealer does not avoid porous stone and tiles like Limestone, Sandstone & Terracotta gradually struggling with wear and spill problems.
Most natural stone and tile flooring has grout. Cementatious grout is softer compared to stone and more at risk of abrasion and chemical wear and tear. Holes can be filled and cracks repaired as part of the restoration.
We use grinding and honing to remove stone finish damage as a result of etching and scratch damage. Natural stone can be ground to reveal a new surface.
Stone Floor Polishing
As time passes your stone can look lifeless and loose its luster and gloss. This dullness is due to minute scratches on the stone where it is often walked on. Polishing will be the only way to regain the initial polish.
Our team use the highest standard diamond polishing machines to re-surface Granite, Terrazzo, Polished Limestone and Polished Travertine floors, and bring back the original finish. Honed Travertine, Slate, Sandstone, Honed Limestone & Clay tiles get their polish from a surface sealer. Polish stripping products are applied to clear away all remnants of the existing sealer, and then a new gloss-finish sealer is applied.
Stone Floor Cleaning Durham
And Throughout The Country
Local Information
The City of Durham , locally About this soundlisten is a cathedral city and the county town of County Durham in North East England .
The city lies on the River Wear, to the south-west of Sunderland, south of Newcastle upon Tyne and to the north of Darlington .
Founded over the final resting place of St Cuthbert, its Norman cathedral became a centre of pilgrimage in medieval England .
The cathedral and adjacent 11th-century castle were designated a World Heritage Site by UNESCO in 1986 .
The castle has been the home of Durham University since 1832 .
HM Prison Durham is also located close to the city centre .
City of Durham is the name of the civil parish .
Examples of Stone Floor Restoration Projects
Victorian Tiles Hallway Floor Deep Cleaned and Sealed in Darlington
Town: Darlington
Stone: Victorian Tiles
Days: 2
Read More
This Victorian Tiles cleaning, sealing and repairs Darlington project is about restoring a soiled and stained victorian tile floor. The floor is over 100 years old, so you can imagine it has suffered quite a bit of wear.
Interesting Flagstone Cleaning Durham City Project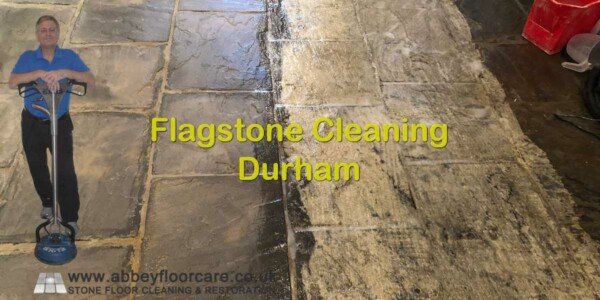 Town: Durham
Stone: Sandstone
Days: 4
Read More
How To Clean A Sandstone Floor In Lanchester Durham
Town: Lanchester
Stone: Sandstone
Days: 2
Read More
This sandstone cleaning Durham project arose because my client was searching for a natural sandstone cleaning and sealing service covering Lanchester, 16 miles north-west of the City of Durham. They had sandstone flags installation in the kitchen, hallways and w/c in the home. The same slabs were laid on the outdoor patio but thankfully that area did not need cleaning. This type of rough texture riven natural stone makes it difficult to clean, compared to a smooth stone like marble. I started the cleaning by scrubbing the floor with a silicon carbide impregnated brush and a strong cleaner degreaser chemical, then rinse with clean water. The cleaning was extremely effective, removing ingra…