Remarkable Stone Floor Cleaning, Stone & Tile Floor Tile Polishing, Sealing & Restoration Service!
Stone Floor Cleaning East Dunbartonshire
Give The Size And Types Of Stone
You Will Get A Punctual Reply
Reasons To Choose Abbey Floor Care
Get a free stone floor cleaning East Dunbartonshire quotation today.
A Short Summary Of Our Expert Stone Floor Restoration Services In East Dunbartonshire
Marble Polishing Bearsden
In time, Marble will end up matt and loose its surface. The dull appearance is brought on by tiny scratches on the surface of the stone where it has been walked on. The best way to revive the polish is by polishing the tiles.
We use industrial diamonds to eliminate the surface damage and restore the initial appearance.
If your floor happens to be put down leaving uneven tiles, that is described as "lippage". The only method to make a marble floor perfectly flat is by grinding away the lippage and jagged tile edges. Marble grinding is a professional process, bringing great results.
After grinding, the grout sits will sit at the same level as the marble tiles. The floor will appear like a single area of marble.
After grinding cleaning is very simple, because the mop slides on the floor. A smooth marble floor doesn't have grout lines to hold grime. Holes, chips and crack repairs tend to be an element of the restoration procedure. The particular restoration needed should be determined by the state of the floor.
Travertine Cleaning Bishopbriggs
A Travertine floor is distinct with a honeycomb structure, with a lot of holes. Travertine floor tiles qre available in a range of finishes, smooth honed, tumbled and polished. In the long run, the original hole filler falls out, then the holes fill with dreadful soil.
Working to the highest standard, restoration businesses use rotary scrubbing equipment and pressurised rinsing to completely clean the Travertine floor.
After cleaning, the Travertine floor can be grouted to fill any exposed holes. After restoration and grouting the Travertine floor we use a long-lasting, easy to clean sealer.
Limestone Cleaning Kirkintilloch
In time, Limestone will end up worn and loose its appearance. Surface scratches and etch damage pile up and damage the initial appearance. The only way to bring back the finish is by polishing the floor. We use industrial diamonds to take away the marks and scratches and rebuild the initial shine.
If your floor has been put down leaving uneven tiles, this is known as lippage. The only way to make a Limestone floor flat is by grinding away the lippage and irregular tile edges. Limestone grinding is a specialist service, providing stunning results. The floor will look like an individual area of stone.
After grinding, the Limestone be flush with the grout lines. It is faster and easier to mop a smooth floor than an uneven floor. A smooth Limestone floor doesn't have grout lines to capture grime. Limestone restoration usually involves a few chip and crack repairs, using Limestone resin fillers. The particular restoration needed should be decided by the current state of the Limestone floor.
Terrazzo Polishing Milngavie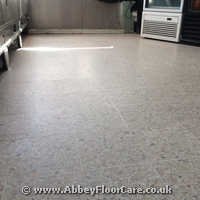 Terrazzo is made from natural stone pieces set in a cement or epoxy medium and it is either poured on site or precast as tiles. Eventually, Terrazzo will lose the original finish. Minute scratches and etching builds up and remove the initial surface.

Terrazzo Polishing is the best way to revive finish to the highest standard. We use diamond polishingequipment to restore the initial Terrazzo shine. Once the Terrazzo has been cleaned and polished, we could apply a sealer which shields against regular spills.
Granite Polishing Lennoxtown
Granite is a popular stone for commercial and home installations. Granite is very hard.Granite is commonly picked because of its hard-wearing properties. The finish on Granite lasts longer than other natural stones. Few stone restoration companies restore Granite, because it is so hard and tough to restore. We offer a complete range of granite restoration, cleaning polishing and sealing services. to the highest standard.
Sandstone Cleaning And Sealing Lenzie
Sandstone is created primarily of quartz, iron oxide, silica and calcium based deposits so it's a very stable stone. The voids amongst the sandstone particles trap soil that can be difficult to remove. There are industrial-grade wax removers, rotary scrubbing equipment and pressure rinsing to eliminate the layers of old sealer We then use specialist sealers that will last for a long time not just months. We will advise the right restoration service.
Slate Cleaning And Sealing Torrance
Slate is an incredibly versatile stone that may be finished using many different finishes including rough surface, smooth honed or polished appearance.. We have been mostly called to clean slate when it has layers of old coating with ingrained dirt, so the surface appears dull and soiled. There are specialist machines and products to remove the soil and old sealers, rejuvenating the original slate finish. Once our professional cleaning is complete,finally we use a durable sealer to make your floor better to mop. If you like a smooth finish, we are able to grind the tiles, but we have to gauge the slate before grinding.
Terracotta Cleaning And Sealing Twechar
Terracotta has got a unique coloring and a rustic feel in the home, but demands careful maintenance in order to keep it looking its best. Terracotta is extremely porous so it's important to protect it with a protective sealer. Cleaning terracotta tiles begins with getting rid of the old polish, sealers and embedded dirt with industrial-grade sealer removers and cleaning chemicals. Whilst we are able to seal Terracotta with Linseed oil and wax, we advise a tough synthetic sealer that will work for years, with minimal maintenance.
Victorian Minton Tiles Cleaning And Sealing Bakdernock
Many Victorian and Edwardian hallways may have floors created from Geometric Encaustic tiles. The tiles have a matt finish and obtain their colour through the clay used in their manufacture. Many of these floors were sealed and then covered up with carpet and lino. The key challenges with victorian floor tiles is to remove decades of polished, oils, waxes, dirt and grime without causing harm to the floor tiles. Following cleaning, a colour intensifying sealer is used to revive the natural colours in the tiles. A topical sealer or wax finish will give the floor tiles with a low-sheen finish.
Cleaning Quarry Tiles Barmellan
Quarry tile floors were at one time a proud feature in terraced houses and farmhouses in the country, but some of those floors have since fallen into different states of repair. One universal problem is former layers of sealer which must be removed. We can eliminate the layers of old coatings and soil, providing you with a pleasant new finish. After cleaning, the tiles can be sealed with a lasting sealer.
Porcelain Tiles Cleaning And Polishing Dougalston
Porcelain is a ceramic blend with additional sand and feldspar included to create a denser tile. The additional minerals makes Porcelain more robust than standard ceramic tiles. If Porcelain is not manufactured properly, the surface can be absorbent just like natural stone floors. The tiny surface pits insure that it is hard to remove this soil. We have the experience and equipment to eliminate this hard to reach soil. Once your porcelain floor is clean we are able to apply a sealer which protects against everyday spillages. In the event that porcelain is a solid colour, we are able to resurface the porcelain, just like granite or marble restoration.
Ceramic Tile And Grout Cleaning Service Caddr
Professional cleaning of Ceramic tile floors is normally a bit less involved than natural stone floors cleaning and restoration. The glassy surface is easier to clean. Still, you will definitely still achieve better results with specialist materials and equipment. A specialist sealer will be put on after the the cleaning process. A sealed ceramic tile is a lot easier to clean and helps stop stains.
There are often elements of natural stone restoration in natural stone cleaning. natural stone floor restoration is often an involved process. All stone and tile floors have problems with wear and surface damage. In most cases, soil, stains and traffic scuff marks ruin floor's finish, hence the need for stone restoration. Polished marble tiles and granite floors show up wear and tear quickly, as minute foot traffic scratches in the surface change the gloss and hold soil. A surface sealer does not prevent permeable natural stone and tiles like Limestone, Sandstone and Terracotta gradually suffering from wear and spill problems.
Virtually all stone and tile flooring have grout lines. Cement grout is generally softer than stone and more in danger of abrasive and chemical deterioration. Holes could be filled and cracks repaired included in a restoration.
We get rid of etching and scratches by grinding and honing. Natural stone can be ground to reveal a new stone surface.
As time passes your stone can appear unexciting and loose its luster and glow. The loss in shine is due to foot traffic scratching and surface deterioration. Polishing will be the only way to bring back the original polish.
On marble, Granite, Terrazzo, Polished Limestone and Polished Travertine floors, the highest standard natural diamonds are utilized to take away the surface damage and restore the initial gloss. Honed Travertine, Honed Limestone, Clay, Slate & Sandstone tiles manage to get thier polish from a surface sealer. The old, dull surface sealer is removed and an innovative new gloss surface sealer is used to create the high shine.
Natural stone sealers take care of and help increase the life span of the stone finish. Penetrating or impregnating sealers are used after diamond tile polishing. Surface or hybrid sealers are utilized on riven natural stone or tiles.
Because grout is permeable, fat spills, liquid dirt and cleaning slurry is taken deep in to the grout lines. Cleaning a natural stone floor doesn't bring the stains out of the grout. Specialized grout cleaning and restoration can make tile grout look just like new once more. Our company always use grout sealers to protect your new cleaned grout lines.
Your very own stone floor cleaning quotation is only a click away.
Local Information
Examples of Stone Floor Restoration Projects
Local Information
East Dunbartonshire (Scots: Aest Dunbartanshire; Scottish Gaelic: Siorrachd Dhùn Bhreatainn an Ear) is one of the 32 council areas of Scotland. It borders the north-west of Glasgow and contains many of the suburbs of Glasgow as well as many of the city's commuter towns and villages. East Dunbartonshire also shares borders with North Lanarkshire, Stirling and West Dunbartonshire. The council area covers parts of the historic counties of Dunbartonshire, Lanarkshire and Stirlingshire.
The council area was formed in 1996, as a result of the Local Government etc. (Scotland) Act 1994, from the former Bearsden and Milngavie district and most of the former Strathkelvin district (all areas except Chryston and Auchinloch, which became part of North Lanarkshire council area), within the wider Strathclyde region.
In the 2014 referendum on independence East Dunbartonshire voted strongly for Scotland to remain a part of the United Kingdom, with 61.2% casting their votes in favour of the Union. The turnout was 91% – the highest in the nation.
Examples of Stone Floor Restoration Projects