The Best Possible Stone Floor Cleaning, Stone & Tile Polishing, Restoration & Sealing Service Company!
Stone Floor Cleaning East Dunbartonshire
If you are searching for Stone floor cleaning East Dunbartonshire, you have landed at the ideal location.
Professionals with a large knowledge of the restoration of Stone floors, developed over two decades.
Drop us a line for your free of charge Stone floor cleaning quotation.
Inform Us About Your Floor
In most cases the size and types of stone, plus a number of images displaying the condition of the floors will be all we require.
Once we have defined your requirements we shall email a thorough written quotation.
You Can Expect To Get A Punctual Reply
Stone floors can frequently have many different finishes, so we will include alternatives to match most budgets.
We shall also send a document displaying images of matching work.
We show up on time and equipped for work.
Your tile and stone floor will look delightful
Why You Will Want To Choose Us
A reputable service provider of stone floor cleaningEast Dunbartonshire.
With top-notch results, affordable rates and knowledgeable staff, our company is excited to be your number 1 choice for cleaning and restoration of natural stone.
When you have a stone floor restoration project in East Dunbartonshire, call for a totally free estimate.
Specialized cleaning and maintenance assistance
Following restoring a tile and stone floor, we leave a thorough maintenance program.
Contact Us Now! Schedule your stone for cleaning East Dunbartonshire quotation now.
Our Specialist Stone Floor Cleaning And Restoration Services In East Dunbartonshire Explored
Marble Polishing Bearsden
Over time, Marble will be worn and loose its surface. The dull appearance is brought on by minute scratches on the surface where it is often walked on. Marble Polishing is your only way to bring back the original appearance.
We use diamond polishing to hone and polish the marble floor and restore the original shine.
It's pretty much impossible to lay a marble tile floor perfectly flat. We can grind off the jagged tile edges, making the tile surface perfectly flat. You should have specialist apparatus and years of experience to grind and hone a marble floor, nevertheless the result is amazing.
After grinding, the grout sits will sit at the same level as the marble tiles. The marble floor looks monolithic, appearing to be produced from a single area of marble.
Cleaning a ground and polished marble floor is much like cleaning just one piece of glass. Also, soil doesn't get stuck into the grout lines. Cracks and chips can be repaired with colour matched resin fillers. The type of restoration needed should be decided by the condition of of your marble floor.
Travertine Cleaning Bishopbriggs
Most of Travertine in the United Kingdom has a honeycomb framework with a large amount of holes. Travertine floor tiles qre available in a variety of finishes, polished, smooth honed and tumbled. As the stone wears, the hole filler comes away, and the holes fill with unappealing soil, dirt and mopping water.
Working to the highest standard, restoration service providers use specialist machines and cleaners to get rid of the soil and old sealer residues on a Travertine floor.
Once the Travertine floor tiles and any holes are cleaned, any open holes are grout filled with a coloured grout. We then use a durable sealer which also makes the Travertine floormuch easier to clean.
Limestone Cleaning Kirkintilloch
Limestone eventually looses its original appearance. The dull appearance is caused by microscopic marks on the surface of the tile where it was walked on. Eventually, your floor will have to be polished. We use diamond polishing to grind, hone and polish the Limestone tiles and bring back the shine.
It really is pretty much unachievable to install a Limestone tile floor absolutely flat. A Limestone tile floor should be leveled by grinding off the lippage and irregular tile edges. This really is a complicated process however the the finished results are fabulous. The Limestone floor will get the appearance of becoming just one slab of stone.
Following grinding, the Limestone and the grout are at the same level. It is less of a challenge to clean a smooth, sleek Limestone than an irregular floor. There will be no depressed grout lines to retain dirt. Limestone floor restoration generally includes a few chip and crack repairs, using resin fillers. After we have assessed the Limestone floor, we will advise the best Limestone restoration process.
Terrazzo Polishing Milngavie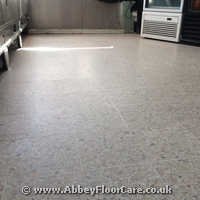 Terrazzo is created by mixing chips made of marble, granite, quartz, or glass chips into a cement or epoxy base . The initial finish on a Terrazzo floor will eventually go dull. The dullness is due to microscopic scratches on top where it was walked over.
The only way to restore the initial finish is by polishing the Terrazzo to the highest standard. We use diamond polishingto replace the initial Terrazzo shine. We can help to avoid this soil with Terrazzo sealers.
Granite Polishing Lennoxtown
Granite is a well known tile flooring for domestic and commercial rooms. Granite is a tremendously hard material, well suited for heavy duty traffic areas. Granite flooring resists wear longer than some other natural stones, like limestone or marble.
As a result of the stone's hardness, granite requires expert cleaning and restoration. We offer a complete selection of granite cleaning, polishing, restoration and sealing services. to the highest standard.
Sandstone Cleaning And Sealing Lenzie
Sandstone floor tiles are available a number of different shades of brown, red, yellow and cream. Whilst sandstone is durable it's also porous, so soil gets caught in the surface and it is hard to remove.
We use a variety of machine scrubbing, hand scrubbing and pressurised rinsing to get rid of all traces of old soiled sealers and clean the floor to the highest standard. After cleaning we apply hard-wearing sealers. The specific restoration needed will be dependant on the health of your floor.
Slate Cleaning And Sealing Torrance
Slate is an extremely popular floor and wall tile due to its low porosity and the numerous varieties and textures of Slate available. Slate needs regular sealing to avoid soil and spills marking the finish.
We use a mixture of machine and hand scrubbing to remove all traces of previous soiled sealers and clean the tiles. After professional cleaning we apply hard wearing sealers.
If you want a smooth floor, we can grind the floor, subject to your slate being suited to grinding.
Terracotta Cleaning And Sealing Twechar
Terracotta is made of natural clay and has been used throughout history for roof tiles, sculptures, bricks and floor tiles.
Terracotta can very quickly start to show surface marks, particularly where the current sealer has completely worn away.
Cleaning terracotta tiles starts off with stripping the old polish, sealers and embedded dirt with professional coating removers and cleaning solutions.
We can re-seal the Terracotta with an original beeswax finish or a hard wearing synthetic sealer.
Victorian Minton Tiles Cleaning And Sealing Bakdernock
Minton geometric tiles are mainly found in Victorian and Edwardian Hallways.
Victorian tiles are manufactured from natural clay with a normal non-shiny finish.
A good number of these floors were sealed and then covered with carpet or lino.
Old waxes, polishes, paint spills and sealer remains tends to make cleaning these floors challenging.
A colour intensifying sealer is used following cleaning, to bring back the original colours when you look at the tiles. A topical sealer or wax finish can give the floor tiles with a low-sheen finish.
Cleaning Quarry Tiles Barmellan
Quarry tile floors were at one time a major feature in terraces and farmhouses across the country, however, many of these floors have since fallen into assorted states of disrepair.
One universal problem is existing coatings of sealer that need to be taken off.
An expert clean and reseal can be enough to restore a quarry tile floor. Quarry tiles in many cases are laid without a damp proof membrane layer, so we want to apply the best sealer to allow the tiles to breathe.
Porcelain Tiles Cleaning And Polishing Dougalston
Porcelain is a form of ceramic tile.
Top quality Porcelain has very low porosity, this means less stains, less water damage and mold, much less need for sealing.
There are some substandard porcelains that may absorb surface soil and spills just like natural stone floors. The microscopic surface pits make it hard to remove this soil.
You need specialist equipment and cleaning solutions to eliminate this soil.
We can help minimize the dirt using Porcelain sealers.
In the event that porcelain is a through-colour, we are able to resurface the porcelain, exactly like granite or marble restoration.
Ceramic Tile And Grout Cleaning Service Caddr
Professional cleaning of Ceramic tiles can often take a shorter time than natural stone floors or clay tiles..
A glassy finish is simpler to clean.
Still, specialist tile cleaning and restoration does give your floor a cleaner finish.
We always use a specialist sealer after cleaning. A sealed ceramic tile is simpler to keep clean and a sealer helps reduce staining.
Stone Restoration And Cleaning. Bichopbriggs
Natural tone floor cleaning is almost never just cleaning, there is certainly frequently more restoration required. natural stone floor restoration can be a multi-step process. At the very least, all stone and tile endure some form of general wear and tear. Traffic deterioration, spots and surface damage shows up on many stone and tile floors, damaging the polish, making the floor appear dull and unattractive, hence the need for stone restoration. Highly polished marble and granite floors show up deterioration quickly, as minute traffic scuff marks in the stone finish dull the shine and trap soil. Wear problems eventually affects porous natural stone which include Limestone, Terracotta, Travertine and Sandstone, which are usually coated with a surface sealer.
Nearly all stone floors have cement grout lines. As it is a little deep-set, so the grout draws in more grime than the tile itself. Stone restoration commonly requires some crack and hole repair.
We use grinding and honing to eliminate surface damage as a result of etching and scratch damage.The good thing about natural stone is that it could be resurfaced, to show a new fresh finish.
Stone Floor Polishing
The initial polish on a natural stone floor is going to progressively dull. Scratch damage and spill marks developing and getting rid of the initial gloss. Finally, the stone floor will need to be re-polished.
Our staff use the highest standard diamond polishing machines to re-surface Granite, Terrazzo, Polished Limestone and Polished Travertine floors, and recover the initial finish. Honed Limestone, Honed Travertine, Slate, Sandstone and Clay tiles get their polish from a surface sealer. The old, dull surface sealer is removed and a brand new gloss sealer is used to create the high shine.
Stone Floor Cleaning East Dunbartonshire
And Throughout The Country
Local Information
East Dunbartonshire Scots: Aest Dunbartanshire; Scottish Gaelic: Siorrachd Dhùn Bhreatainn an Ear is one of the 32 council areas of Scotland .
It borders the north-west of Glasgow and contains many of the suburbs of Glasgow as well as many of the city's commuter towns and villages .
East Dunbartonshire also shares borders with North Lanarkshire, Stirling and West Dunbartonshire .
The council area covers parts of the historic counties of Dunbartonshire, Lanarkshire and Stirlingshire .
The council area was formed in 1996, as a result of the Local Government Scotland Act 1994, from the former Bearsden and Milngavie district and most of the former Strathkelvin district all areas except Chryston and Auchinloch, which became part of North Lanarkshire council area, within the wider Strathclyde region .
In the 2014 referendum on independence East Dunbartonshire voted strongly for Scotland to remain a part of the United Kingdom, with 61 .
2% casting their votes in favour of the Union .
The turnout was 91% – the highest in the nation .
Examples of Stone Floor Restoration Projects