The Best Quality Stone Floor Cleaning, Stone & Tile Restoration Sealing & Polishing Service Company!
Stone Floor Cleaning Renfrewshire
The Simple Steps To Follow
Send Us Information Regarding Your Floor
You Can Expect To Get A Quick Reply
We Decide On A Start Date
Reasons Why You Should Select Abbey
Arrange your very own stone for cleaning Renfrewshire quotation today.
A Simple Account Of Our Specialised Stone Floor Cleaning And Restoration Services In Renfrewshire
Over time, Marble will end up dull and loose its shine. The dullness is brought on by minute marks on the surface where it has been walked over. Marble Polishing is the only way to restore the initial appearance.
We make full use of specialist equipment and industrial diamond tooling to grind and polish the marble. to the highest standard
In the event that tiles are not even, even this problem is called "lippage". The only method to make a marble floor perfectly flat is by grinding off the lippage and uneven tile edges. You must have dedicated machines and many years of grinding and polishing to grind and hone a marble floor, but the result is stunning.
Following grinding, the marble will be the same level the grout lines. The marble floor will have the look of appearing as just one area of marble.
An even marble surface is much easier to keep. Also, soil doesn't get stuck into the grout lines. Marble restoration commonly involves some chip and crack repairs, using marble resin fillers. The restoration needed should be dependant on the current state of your floor.
Travertine Cleaning Renfrew
A Travertine floor has a porous structure, with a lot of holes. Travertine floor tilescan be supplied in several finishes, including honed, polished and tumbled. As the stone wears, the hole filler comes away, and the holes fill with unpleasant dirt and soil.
Working to the highest standard, restoration businesses use specialist machines and cleaners to get rid of soil and old sealer residues on a Travertine floor.
After cleaning, any holes on a Travertine floor could be filled up with colour matched grout. After cleaning and grouting we apply hard wearing sealers.
Limestone Cleaning Johnstone
Limestone eventually looses the original finish. The surface damage is brought on by traffic scores and surface etching Ultimately, the tiles will need to be re-polished. Diamonds are used to get rid of the scratches anddamage and repair the initial gloss.
Most Limestone tile surfaces are not even as the tiles are not laid flat. A Limestone floor is leveled by grinding off the lippage and irregular tile edges. This really is a complicated process nevertheless the the finished results are gorgeous. The Limestone will have the appearance of being just one area of stone.
After grinding, the tiles and grout are at exactly the same level. An even Limestone floor is much simpler mop. A smooth Limestone floor doesn't have grout depessions to retain grime. Holes, chips and crack repairs in many cases are an element of the restoration service. Once we have inspected your Limestone floor, we will recommend he best Limestone restoration procedure.
Terrazzo Polishing Erskine
Terrazzo has been utilized for many thousands of years as a decorative flooring Gradually, Terrazzo will lose the original finish. The change in appearance is brought on by microscopic scratches on top where it has been walked over.

The only way to restore the initial finish is by polishing the Terrazzo to the highest standard. Diamonds remove the surface damage and restore the initial Terrazzo shine. After cleaning and polishing, we use specialist Terrazzo sealers.
Granite Polishing Lochwinnoch
Granite is an extremely popular tile flooring. Granite is an extremely hard-wearing stone flooring, ideal for heavy foot traffic areas. The surface on Granite lasts longer than other stones. As a result of its hardness, granite really needs specialized cleaning and restoration. Our Company will restore all forms of granite flooring. to the highest standard.
Sandstone Cleaning And Sealing Elderslie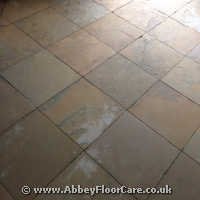 Sandstone is made from highly compressed sand, including a variety of minerals such as quartz and feldspar. Sandstone can end up getting ingrained soil making it look dull and tough to clean. Professionals use rotary brushing machines, coating removers and pressurised rinsing to completely clean the sandstone Then we use specialist sealers that will last for years not months. After inspecting the tiles, we will advise the most appropriate Sandstone restoration service.
Slate Cleaning And Sealing Johnstone
Slate flooring is one of the most well known types of natural stone, since it needs less regular maintenance and cleaning.. While slate has a minimal porosity, it's going to always partly absorb and oil based spills, causing aggravating marks. We use specialist sealer removal treatments and rotary scrubbing machines to remove the layers of old coatings. Once our professional cleaning is complete,finally we use a lasting sealer that will make your floor much easier to mop. Some slate floors can be ground to a smooth finish.
Terracotta Cleaning And Sealing Linwood
Terracotta has no glaze on the surface, so that it will absorb spills and soil very quickly. Traditional Terracotta sealers will need regular maintenance and re-application, if they're not taken care of, the surface will begin to get dirty and become porous. Cleaning and restoring terracotta tiles commences with getting rid of the previous polish, sealers and ingrained soil with specialist sealer removers and cleaning solutions. Whilst we are able to seal Terracotta with Linseed oil and wax, we advise a durable synthetic sealer which will last for years, with minimal maintenance.
Victorian Minton Tiles Cleaning And Sealing Langbank
Period Geometric or Encaustic floor tiles are found in Victorian and Edwardian hallways. Victorian tiles are produced from natural clay with a normal matt finish. Owing to how old they are, these floors have experienced plenty of wear and can have layers of different sealers. The primary challenges with victorian floor tiles is to remove the of polished, oils, waxes, dirt and grime while not damaging the floor tiles. Following cleaning, a colour intensifying sealer is applied to revive the oroginal colours in the tiles. Topical sealers and waxes will give a floor a sheen or glossy finish.
Cleaning Quarry Tiles Bridge of Weir
Quarry tile flooring is generally several decades old and often needs a complete professional clean and restoration to restore it back into life. Surface damage like scratches and other abrasions can occur if the tiles have not been properly sealed or even the seal has worn away. We can get rid of the layers of old coatings and dirt, leaving a pleasant new finish. If Quarry tiles are laid on sand, ash or lime, use sealers that enable the free transfer of moisture.
Porcelain Tiles Cleaning And Polishing Howwood
Porcelain is starting to become an extremely desirable option to standard ceramic tiles and natural stone. The extra minerals helps make Porcelain stronger than traditional ceramic tiles. Inferior porcelains have surface pores that may absorb soil just like natural stone floors. This soil could be difficult to remove. You need specialist machines and cleaners to get rid of this soil. After your porcelain floor is clean we can which protects against everyday soil and spills. If you've got a solid colour Porcelain, we can re-surface the tiles by Grinding and re-polishing.
Ceramic Tile And Grout Cleaning Service Craigends
Professional cleaning of Ceramic tile floors is frequently less involved when compared with natural stone floors cleaning. The finish in Ceramic tiles is generally not permeable. Nevertheless, you will still get better results using specialized equipment and materials. We always use a specialist tile sealer after cleaning. Sealing helps to make maintenance much easier and helps to protect from spillages.
Natural tone tile cleaning is rarely cleaning alone, there is commonly additional restoration needed. Restoring stone and tile floors normally involves many stages. Natural stone floors have problems with traffic wear and damage, because people move on them. The most frequent challenge we experience during stone restoration is greasy dirt trodden into the surface forming a lifeless, unattractive polish. A polished marble or granite floor shows wear a lot quicker due to traffic wear that will begin to wear he finish and alter the luster. A surface sealer will not prevent permeable stone and tiles like Sandstone, Limestone and Terracotta eventually suffering from wear and spill problems.
Grout can be probably the most vulnerable section of a stone floor installation. Dirty grout is a common problem to be fixed on natural stone and tile floors. Natural stone restoration typically requires some crack and hole repair.
Resurfacing removes damage from etch spills and surface scratches.Natural stone has the appeal that a grubby, porous surface can be taken off, unveiling a beautiful new surface.
The initial finish on a stone floor is going to gradually dull. The lack of sparkle is caused by traffic scratching and surface deterioration. The best way to replace the first finish is through polishing the stone.
Our staff use the highest standard diamond polishing machines to re-surface Granite, Terrazzo, Polished Limestone and Polished Travertine floors, and bring back the initial finish. Honed Limestone, Slate, Honed Travertine, Clay & Sandstone tiles get their polish from a surface sealer. The old, dull surface sealer is removed and a new gloss surface sealer is applied to produce the high polish.
The most appropriate tile and natural stone sealers will safeguard and prolong the life of the stone and tile floor finish. Whenever your floor is polished with diamonds, a penetrating or impregnating sealer will be applied. Hybrid or surface sealers are utilized on rough natural stone or tiles.
Aged cementatious grout can be extremely permeable, hence dirt and grease swiftly sinks deep into the cement grout Grout lines in the middle of your natural stone tiles is often impossible to thoroughly clean. You shouldn't allow grubby stone grout damage the look of your floor, get in touch with professional grout cleaning. Our company always uses grout sealers to guard your new clean grout lines.
Your very own stone floor cleaning quotation is simply one click away.
Local Information
Examples of Stone Floor Restoration Projects
Local Information
Renfrewshire () (Scots: Renfrewshire; Scottish Gaelic: Siorrachd Rinn Friù) is one of the 32 council areas of Scotland.
Located in the west central Lowlands, it is one of three council areas contained within the boundaries of the historic county of Renfrewshire, the others being East Renfrewshire to the east and Inverclyde to the west. It also shares borders with Glasgow, North Ayrshire and West Dunbartonshire, and lies on the southern bank of the River Clyde.
The term Renfrewshire may also be used to refer to the historic county, also known as the County of Renfrew or Greater Renfrewshire, with origins in the 16th century. The larger Renfrewshire, containing Renfrewshire, Inverclyde and East Renfrewshire, remains in use as a registration county and lieutenancy area as well as a joint valuation board area for electoral registration and local tax valuation purposes.
The town of Paisley is the area's main settlement and centre of local government and contains the historic county town, the royal burgh of Renfrew.
Examples of Stone Floor Restoration Projects