Top-Quality Stone Floor Cleaning, Stone & Tile Floor Tile Restoration Sealing & Polishing Service!
Stone Floor Cleaning Renfrewshire
If you are trying to find Stone floor cleaning Renfrewshire, you have landed at the ideal location.
Professionals with more than twenty years experience rejuvenating Stone floorings..
Your Stone floor cleaning professionals are right here to aid and give you a quote to polish your Stone floor..
Give The Size And Variety Of Stone
Some photos showing the floors and the sizes usually are all we want.
After we have clarified your requirements we will email a thorough written estimate.
Quite often we will propose other finishes to accommodate most budgets.
We will also email a document featuring photos of comparable work.
We arrive punctually.
As soon as we get done you are delighted
Exactly Why You Can Rely On Abbey
We recognise your financial investment in stone floors and our stone floor cleaning Renfrewshire service can help you maintain its natural charm over the years.
We utilize the latest technology, delivered with a personal touch, so that your stone floors look more beautiful and preserve their pure beauty for many years to come.
Our knowledgeable specialists are here to provide you with a totally free quotation.
Specialized cleaning and maintenance advice
After restoring a tile and stone floor, we supply a comprehensive ongoing maintenance program.
Contact Us Now! Your very own stone floor cleaning Renfrewshire quotation is merely one click away.
Our Expert Stone Floor Cleaning And Polishing Services In Renfrewshire Revealed
Marble Polishing Paisley
Progressively a marble floor will lose its original polish. Surface scratches and etching add up and dull the initial finish. Sooner or later, your floor will need to be repolished.
We operate specialized equipment and industrial diamond tooling to grind and polish the stone. to the highest standard
It's almost impossible to lay a marble floor completely flat. The only way to make a marble floor flat is by grinding off the lippage and uneven tile edges. That is an involved process however the results are amazing.
Following grinding, the marble will be the same level the grout. The marble will have a monolithic appearance as just one slab of stone.
A smooth marble floor is much simpler to keep. A smooth floor doesn't have grout depessions to hold soil. If your marble has chips and cracks, we could repair them with resin fillers, closely colour matched with the marble. After checking the floor, we can advise the best marble restoration program.
Travertine Cleaning Renfrew
A Travertine floor is unique with a honeycomb structure, with plenty of holes. There are different kinds of Travertine floor tiles, including polished, honed and tumbled. The initial hole filler often falls away, allowing the holes to fill with dirt, soil and mopping water.
Working to the highest standard, restoration service providers use rotary scrubbing machinery and pressurised rinsing to wash the Travertine floor.
Once the Travertine floor tiles and the holes are cleaned, any holes are grout filled using a coloured grout. After cleaning and grouting we apply hard-wearing sealers.
Limestone Cleaning Johnstone
Progressively Limestone will loose the initial shine. Scratching and stains strengthen and take off the original finish. Limestone Polishing is the only way to revive the original polish. We use industrial diamond polishing machinery to reinstate the gloss.
The majority of Limestone floors are uneven due to the fact tiles are not put down flat. We can grind away the uneven edges of the tiles, making the tile surface flat. It is an involved process however the the finished results are fabulous. The Limestone floor will get the appearance of being just one slab of stone.
Following grinding, the Limestone be at the same level the grout lines. After grinding and polishing cleaning is very simple, as the mop slides over the floor. Also, soil does not get stuck within the grout lines. If your Limestone floor has cracks and chips, we are able to repair them using resin fillers, colour matched with the Limestone. After inspecting the floor, we can advise the best Limestone restoration process.
Terrazzo Polishing Erskine
Terrazzo is made by mixing chips produced from marble, granite, quartz, or glass chips into a cement or epoxy medium . Sooner or later, Terrazzo will lose the original finish. The surface damage is due to traffic scratches and surface damage.
The best way to restore the original finish is by polishing the Terrazzo to the highest standard. We have diamond polishing machines to grind the Terrazzo and restore the initial finish. Once the Terrazzo has been cleaned and polished, we could apply a sealer that shields against day to day spills.
Granite Polishing Lochwinnoch
Granite is widely found in both domestic and commercial interiors. Granite is a really hard wearing stone flooring, well suited for heavy-duty foot traffic lanes. Granite Tile is harder wearing than some other stone, like limestone or marble.
Granite is so hard, that many companies don't have the apparatus or experience to revive it. We have invested in the experience and equipment to revive your granite floor. to the highest standard.
Sandstone Cleaning And Sealing Elderslie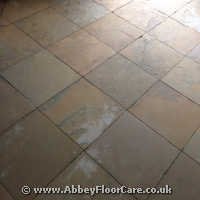 Sandstone floor tiles are available in several different shades of brown, red, yellow and cream. Whilst sandstone is durable it is also porous, so cleaning slurry gets trapped in the surface and it is tough to remove.
We use a variety of machine scrubbing, hand scrubbing and pressurised rinsing to remove all traces of old soiled coatings and clean the floor to the highest standard. Then we use specialist sealers that last for years not months. We will advise the right restoration service.
Slate Cleaning And Sealing Johnstone
Slate flooring is amongst the most widely used types of natural stone, because it calls for less routine maintenance and mopping. We have been commonly called to restore slate when it suffers form layers of old sealer with ingrained dirt, and so the finish looks worn and dirty.
There are specialist machines and products to get rid of the soil and old sealers, restoring the original slate finish. After professional cleaning we use hard wearing sealers.
If you prefer a smooth finish, we could grind the slate, but we need to measure the slate before grinding.
Terracotta Cleaning And Sealing Linwood
Terracotta has no glaze on top, therefore it will soak up spills and soil very quickly.
Terracotta can very quickly start to show surface marks, particularly where the current sealer has completely worn away.
Cleaning and restoring terracotta tiles starts off with stripping the existing polish, sealers and embedded dirt with professional sealer removers and cleaning solutions.
Whilst we can seal Terracotta with Linseed oil and wax, we advise a tough synthetic sealer that will work for years, with minimum maintenance.
Victorian Minton Tiles Cleaning And Sealing Langbank
Victorian Clay Tiles are installed in a lot of Victorian and Edwardian hallways.
Victorian tiles are produced from natural clay and have a natural non-shiny finish.
Due to how old they are, these floors have experienced plenty of wear and can have layers of different sealers.
Old paint spills, waxes, polishes and sealer remains helps make cleaning many of these floors a challenge.
A colour intensifying sealer is used immediately after cleaning, to bring back the first colours when you look at the tiles. The mat finish may be polished through the use of a wax or topical sealer.
Cleaning Quarry Tiles Bridge of Weir
Quarry tiles are very durable although they still suffer with a couple of issues.
Damage to the surface of the tiles like scratches and other abrasions can happen in the event that tiles haven't been correctly sealed or even the seal has worn down.
We can get rid of the layers of old selaers and dirt, giving you an attractive new finish. Quarry tiles in many cases are laid with no damp proof membrane layer, therefore we need to apply the best sealer to permit the tiles to breathe.
Porcelain Tiles Cleaning And Polishing Howwood
Porcelain has become an extremely preferred option to ordinary ceramic tiles and natural stone.
Top quality Porcelain has very low porosity, which means less stains, less water damage and mold, and less need to be sealed.
Inferior porcelains have surface pores that will absorb soil just like natural stone floors. If you have got an inferior Porcelain, the surface soil could be difficult to remove.
We possess the equipment and experience to remove this hard to reach soil.
We will help minimize the dirt with Porcelain sealers.
Solid colour Porcelain Tiles can certainly be ground and polished, similar to Granite or Marble.
Ceramic Tile And Grout Cleaning Service Craigends
Professional cleaning of Ceramic tiles can often take less time than stone floors or clay tiles..
This happens because the surface of the tile is commonly glazed.
None the less, professional cleaning, professional cleaning agents and machinery can give the best results.
We always use a professional sealer after cleaning and restoraiton. Tile sealing avoids spills changing into stains, and makes cleaning more effective.
Cleaning and Restoring Stone Floors. Houston
There in many cases are aspects of natural stone restoration during natural stone tile cleaning. natural stone floor restoration is often an involved process. Natural stone floors suffer with traffic wear and damage, because people move over them. Traffic harm, stains and surface damage shows up on most stone floors, wrecking the polish, making the floor appear dull and unattractive, subsequently the significance of stone restoration. A polished marble or granite floor shows wear a lot quicker as traffic abrasion that will start to damage he finish and change the sparkle. Porous tile and natural stone that is sealed with a coating sealer will progressively be affected by wear deterioration.
Grout is normally the most sensitive element of a stone or tile installation. Grimy grout is a very common problem to be resolved on natural stone and tile floors. Stone restoration typically includes some crack and hole repair.
We get rid of acid etching and scratching by resurfacing.We're able to take away the existing finish from the natural stone, showing a brand new clean surface.
Polishing Stone Floors
Natural stone floor tiles eventually loose their authentic gloss. Scratch damage and acid etch spots developing and stripping the initial shine. natural stone polishing is the the only way to revive the original shine.
Our company use the highest standard diamond polishing equipment to polish Granite, Terrazzo, Polished Limestone and Polished Travertine floors, and regain the original finish. Gloss sealers produce the shine on Honed Travertine, Clay, Honed Limestone, Sandstone & Slate tiles. The best method to polish these tiles is through removing the old sealer and apply a fresh layer of polish sealer.
Stone Floor Cleaning Renfrewshire
And Throughout The Country
Local Information
Renfrewshire Scots: Renfrewshire; Scottish Gaelic: Siorrachd Rinn Friù is one of the 32 council areas of Scotland .
Located in the west central Lowlands, it is one of three council areas contained within the boundaries of the historic county of Renfrewshire, the others being East Renfrewshire to the east and Inverclyde to the west .
It also shares borders with Glasgow, North Ayrshire and West Dunbartonshire, and lies on the southern bank of the River Clyde .
The term Renfrewshire may also be used to refer to the historic county, also known as the County of Renfrew or Greater Renfrewshire, with origins in the 16th century .
The larger Renfrewshire, containing Renfrewshire, Inverclyde and East Renfrewshire, remains in use as a registration county and lieutenancy area as well as a joint valuation board area for electoral registration and local tax valuation purposes .
The town of Paisley is the area's main settlement and centre of local government and contains the historic county town, the royal burgh of Renfrew .
Examples of Stone Floor Restoration Projects