Terrazzo Floor Polishing Kinver Stourbridge DY7 Abbey Floor Care
Terrazzo Floor Polishing Kinver Stourbridge DY7 Abbey Floor Care
This is a terrazzo floor polishing project in Kinver, Stourbridge. The terrazzo flooring is laid in 300mm square terrazzo tiles on an indoor and outdoor patio area.
The outdoor has suffered from the weather and poor maintenance.
This close-up of the terrazzo floor shows how the portland cement in the terrazzo has been worn away by a combination of weather, chemicals, moss etc.
The indoor terrazzo was in much better condition, but it was still soiled with a soiled, patchy finish. The finish probably happened before the conservatory was built over it.  When the area was still an outdoor patio, exposed to the elements and cleaned with strong cleaning chemicals.
Terrazzo Floor Polishing Kinver – The Polishing Process
We started on the outdoor area first, deep grinding the terrazzo with 30 grit diamonds and 50 grit diamonds.
The grinding removed the damaged surface and smoothed any uneven tiles, leaving the floor smooth and ready for honing.
There was quite a lot of grinding as we needed to remove around 3mm of tile to account for uneven tiles and reveal a new even surface.
We then honed the floor with 100 grit diamonds and 200 grit diamonds. The honing closed the stone, leaving a smooth, non-slip hard wearing finish, ideal for and outdoor floor.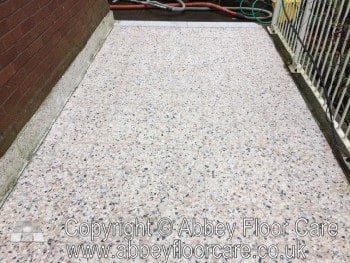 We then sealed the floor with a high quality impregnating sealer.
Before we could start work on the edges of the patio, it started to rain, so we had to stop work on the outside and start work on the indoor area.
The weather was still against us after finishing the indoor area, so we had to wait a few months before we could guarantee good weather.
We used a similar process on the indoor terrazzo floor. The floor was in much better condition, so we did not need to grind the floor as much as the outdoor floor.
Although the indoor area was four times larger than the outdoor area, it only took twice the time to grind and hone the floor because it was in much better condition.
The only issue with the indoor floor was that it was laid on a slight incline and grinding a floor uphill is hard work when you are over 60.
As the work was indoors, I could hone and clean the skirting tiles.
After the floor was cleaned and dry, we applied 2 coats of high quality impregnating sealer.
We also supplied the customer with microfiber cleaning equipment and chemicals. If you look after a terrazzo floor, it will look beautiful and be easy to clean for years. If you don't look after your terrazzo floor then it will quickly degrade into a dull, hard to clean nightmare.
If you are looking for terrazzo polishing we will be delighted to help. Use the simple contact form below for a free, no-obligations quotation to restore your travertine floor