The Best Quality Stone Floor Cleaning, Stone & Tile Restoration, Polishing & Sealing Service Company!
Stone Floor Cleaning Edinburgh
Send Us Details About Your Floor
The Reasons Why You Should Contact Abbey Floor Care
It is straight forward to schedule a quote for your stone floor cleaning Edinburgh.
Our Specialized Stone Floor Cleaning And Restoration Services In Edinburgh Outlined
Marble Polishing Edinburgh
An initial finish on marble will ultimately go dull. The surface damage is brought on by traffic scratching and surface etching The best way to restore the finish is by polishing the tiles.
We use industrial diamond polishing to grind, hone and polish the floor and rebuild the shine.
If your floor has been laid leaving not level tiles, it is referred to as "lippage". The only method to make a marble tile floor flat is by grinding away the lippage and jagged edges of the tiles. Grinding marble floor tiles should really only be performed by professionals.
Following grinding, the grout sits is level with the marble. The marble will have a monolithic appearance as an individual piece of marble.
A smooth marble floor is much simpler clean. A smooth marble floor doesn't have grout lines to retain dirt. Cracks, chips and hole repairs are often part of the restoration process. We will advise the correct restoration process.
Travertine Cleaning South Queensferry
A Travertine floor is a kind of Limestone. There will various types of Travertine floor tiles, including tumbled, honed and polished. In the long run, the initial hole filler falls away, thereafter the holes fill with dreadful soil.
Working to the highest standard, restoration service providers use rotary scrubbing machinery and pressure rinsing to wash the Travertine floor.
After cleaning, any holes in the Travertine floor could be filled with colour matched grout. We then use a durable sealer that can helps make the Travertine floora lot easier to clean.
Limestone Cleaning Dalmeny
Over time, Limestone will be matt and loose its polish. The dull appearance is brought on by microscopic scratching on the surface of the tile where it is often walked on. The only way to bring back the polish is through polishing the Limestone. We use diamond polishing to re-surface the floor and repair the initial appearance.
If the tiles are not even, even this disorder is named "lippage". A Limestone floor is leveled by grinding off the lippage and jagged edges of the tiles. Limestone floor grinding is an expert service, that brings superb results. The floor will appear like just one slab of Limestone.
Following grinding, the Limestone will be at the same level the grout lines. A smooth Limestone finish is much simpler to maintain. A smooth Limestone floor does not have grout depessions to retain dirt. If your Limestone has chips and cracks, we are able to repair the damage with resin fillers, colour matched to the Limestone. After inspecting the Limestone, we can advise the best Limestone restoration service.
Terrazzo Polishing Kirkliston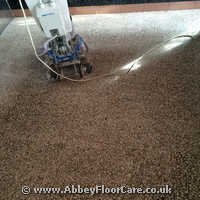 Terrazzo is manufactured out of natural stone pieces set in a cement or epoxy binder and it is either poured on site or cast as tiles. Over time a Terrazzo floor will loose the original finish. The dullness is caused by microscopic scratches on the surface where it has been walked over.

The only way to restore the initial finish is through polishing the Terrazzo to the highest standard.
We have diamond polishing machines to re-surface the Terrazzo and restore the original finish. Once the Terrazzo has been cleaned and polished, we are able apply a sealer that provides protection against day to day spills.
Granite Polishing Ingliston
Granite is a well known tile flooring for commercial and domestic rooms. Granite is a tremendously hard stone flooring and very resistant to damage from scratching and stains compared to other stone such as limestone and marble. Granite wears longer than alternative stone flooring, like limestone or marble. Granite is so hard, that many companies don't have the apparatus or experience to revive it. We offer a full selection of granite cleaning, polishing, restoration and sealing services. to the highest standard.
Sandstone Cleaning And Sealing Leith
Sandstone floor tiles are offered in a number of different shades of brown, red, yellow and cream. The voids amongst the sandstone particles trap soil that may be difficult to get rid of. There are specialist sealer removers, rotary scrubbing equipment and pressure rinsing to get rid of the layers of old sealer After cleaning we put on hard-wearing sealers. Once we examine your floor, we are able to help you the best restoration process.
Slate Cleaning And Sealing Newbridge
Slate flooring is one of the most well known kinds of natural stone, given that it calls for less routine maintenance and mopping.. Slate floors need regular sealing to prevent spills and soil marking the surface. We use industrial-grade sealer removal treatments and rotary scrubbing appliances to remove the layers of old sealer. Once our professional cleaning is completed,finally, we use a lasting sealer which also makes your floor more straightforward to clean. If you prefer a smooth floor, we are able to grind the ground, subject to the slate being suitable for grinding.
Terracotta Cleaning And Sealing Gogar
Terracotta doesn't have glaze on top, so that it will soak up spills and soil very quickly. Abrasive cleaning chemicals such as conventional floor cleaning solutions and bathroom tile cleaners can easily permanently mark and damage Terracotta. Sealer residues, soil and scratches can be removed with rotary scrubbing and sealer removers. We can re-seal the Terracotta with a genuine beeswax finish or a hard wearing synthetic sealer.
Victorian Minton Tiles Cleaning And Sealing Ratho
Many Victorian and Edwardian hallways will have floors made of Geometric Encaustic tiles. The tiles have a matt finish and get their colour from the clay used in their manufacture. Because of how old they are, these floors have experienced a lot of wear and can have layers of various sealers. With their age, these types of floors might have a variety of coating residues, that have to have specialist cleaning After cleaning, the initial colours in the floor can appear dull, so we apply a colour intensifying impregnating sealer to revive the original . Topical sealers and waxes will give a floor a sheen or glossy finish.
Cleaning Quarry Tiles Currie
Quarry tiles are extremely are particularly durable but they do suffer from a number of issues. One universal problem is previous coatings of sealer that must be taken off. Professional cleaning can get rid of the years of dirt and older sealers, exposing an attractive floor. After the quarry tiles are cleaned they should be sealed to provide many years of life.
Porcelain Tiles Cleaning And Polishing Balerno
Porcelain is a ceramic blend with sand and feldspar added to develop a denser tile. The extra minerals makes Porcelain stronger than traditional ceramic tiles. Some inferior porcelain has tiny holes which will absorb soil just like natural stone floors. It can be difficult to remove this soil. We have the equipment and experience to get rid of this difficult to reach soil. Our Porcelain sealers will help stop further soil problems. If the porcelain is a solid colour, we are able to resurface the porcelain, exactly like granite or marble restoration.
Ceramic Tile And Grout Cleaning Service Blackford
Professional cleaning of Ceramic floor tiles often takes less time in comparison to stone floors or clay tiles. Ingrained soil and dirt are usually on top of the ceramic tiles. However, specialist tile cleaning and restoration will certainly render a cleaner finish. A professional tile sealer will be applied after the cleaning. Care is much simpler having a sealed tile floor, plus a sealer stops spills transforming into stains.
Natural tone cleaning is almost never cleaning alone, there is frequently extra restoration required. natural stone floor restoration can be a multi-step process. All stone and tile floors suffer from surface damage and general wear problems. In most cases, dirt, stains and foot traffic scuff marks affect floor's finish, hence the need for stone restoration. A polished stone floor shows wear more quickly as traffic wear that will begin to scratch he polish and change the shine. Foot traffic problems sooner or later has an effect on porous natural stone like Limestone, Travertine, Sandstone & Terracotta, which are most often protected with a surface sealer.
Most stone and tile flooring has grout. Being slightly concave, that means the grout draws in more soil compared to the stone itself. Natural stone restoration commonly includes some crack and hole repairs.
Grinding and honing takes away damage from etch spills and surface marks. Natural stone can be ground to reveal a fresh surface.
Stone floors ultimately loose their authentic gloss. Scratch damage and acid etching marks developing and removing the original gloss. Finally, the stone tiles will have to be restored.
On marble, Granite, Terrazzo, Polished Limestone and Polished Travertine floors, the highest standard diamonds are used to remove the surface damage and recover the original gloss. Clay, Sandstone, Slate, Honed Travertine & Honed Limestone tiles get their polish from a surface sealer. Sealer stripping chemicals are applied to take off all traces of the existing sealer, and then a brand new gloss sealer is applied.
Your stone and tile floor should always be correctly sealed during installation, immediately after professional cleaning or stone restoration. Impregnating or penetrating sealers are employed when diamond polishing. When you've got rough finished stone or tiles, we normally use a hybrid or surface sealer.
Aged cementatious grout can be quite permeable, so grime and fat swiftly sinks deep to the cement grout Grout lines drop down below the tiles, so cleaning slurry gets mopped right into grout during cleaning. Expert grout cleaning makes floor grout appear like new once more. Our company always uses grout sealers to guard the new cleaned grout.
Schedule a stone for cleaning quote now.
Local Information
Examples of Stone Floor Restoration Projects
Local Information
Edinburgh (;Scots: Edinburgh; Scottish Gaelic: Dùn Èideann [ˈt̪uːn ˈeːtʲən̪ˠ]) is the capital of Scotland and one of its 32 council areas. Historically part of the county of Midlothian (interchangeably Edinburghshire before 1921), it is located in Lothian on the Firth of Forth's southern shore.
Recognised as the capital of Scotland since at least the 15th century, Edinburgh is the seat of the Scottish Government, the Scottish Parliament and the supreme courts of Scotland. The city's Palace of Holyroodhouse is the official residence of the monarch in Scotland. The city has long been a centre of education, particularly in the fields of medicine, Scots law, literature, philosophy, the sciences and engineering. It is the second largest financial centre in the United Kingdom (after London) and the city's historical and cultural attractions have made it the United Kingdom's second most visited tourist destination attracting 4.9 million visits including 2.4 million from overseas in 2018.
Edinburgh is Scotland's second most populous city and the seventh most populous in the United Kingdom. The official population estimates are 488,050 (mid-2016) for the Edinburgh locality, 518,500 (mid-2019) for the City of Edinburgh council area, and 1,339,380 (2014) for the wider city region. Edinburgh lies at the heart of the Edinburgh and South East Scotland city region comprising East Lothian, Edinburgh, Fife, Midlothian, Scottish Borders and West Lothian.
The city is the annual venue of the General Assembly of the Church of Scotland. It is home to national cultural institutions such as the National Museum of Scotland, the National Library of Scotland and the Scottish National Gallery. The University of Edinburgh, founded in 1582 and now one of three in the city, is placed 20th in the QS World University Rankings for 2020. The city is also known for the Edinburgh International Festival and the Fringe, the latter being the world's largest annual international arts festival. Historic sites in Edinburgh include Edinburgh Castle, the Palace of Holyroodhouse, the churches of St. Giles, Greyfriars and the Canongate, and the extensive Georgian New Town built in the 18th/19th centuries. Edinburgh's Old Town and New Town together are listed as a UNESCO World Heritage site, which has been managed by Edinburgh World Heritage since 1999.
Examples of Stone Floor Restoration Projects