Incredible Stone Floor Cleaning, Stone & Tile Floor Tile Polishing, Sealing & Restoration Service Company!
Stone Floor Cleaning Rutland
Stone floor cleaning Rutland experts are on-the-spot for you.
Our specialists have been reconditioning Stone floors in the Rutland area well upwards of two decades..
Drop us a line for your 100 percent free of charge Stone floor cleaning price.
Provide The Size And Type Of Stone
More often than not the dimensions and sort of stone, plus a handful of photographs displaying the condition of the floors will be all we require.
After we have defined your requirements we will email a comprehensive written quote.
You Can Expect To Get A Prompt Reply
Quite often we will present other treatments to suit most budgets.
Our quotation is going to be accompanied with a document detailing examples of similar work.
We Decide On A Start Date
We get there on time and equipped for work.
Your natural stone floor will be lovely
Precisely Why You Can Depend On Abbey
Delivering stone floor cleaning Rutland, Polishing, Repair and Full Restoration Services.
Utilizing time-honored methods with contemporary techniques and maerials to give the very best results.
Fill in our simple contact form for a free stone floor restoration estimate.
If you want cleaning tips, make contact and I will be more than happy to help.
After restoring tile and stone floors to a stunning finish, we leave a cleaning and maintenance program, so stone floors will stay stunning for years instead of months.
Contact Us Now! Book a quotation for your stone floor cleaning Rutland
Our Specialized Stone Floor Restoration Services In Rutland Described
Marble Polishing Oakham
An original finish on marble will bit by bit dull. This surface damage is caused by foot traffic scores and surface etching Marble Polishing is the best way to reinstate the original polish.
We use diamonds to take away the surface damage and restore the appearance.
It is practically unachievable to install a marble tile floor absolutely flat. The only method to make a marble floor flat is by grinding away the lippage and irregular tile edges. Marble tile grinding is a specialist process, bringing stunning results.
Following grinding, the grout sits will sit at the same level as the marble tiles. The marble will get the look of looking like an individual piece of marble.
It is much simpler to maintain a smooth marble than an irregular floor. A smooth surface marble floor won't have grout depessions to capture grime. Marble floor restoration typically features a few crack and chip repairs, using marble resin fillers. The type of restoration needed is going to be dependant on the state of the marble floor.
Travertine Cleaning Uppingham
A Travertine floor is characterised by a honeycomb structure, with lots of holes. Travertine floor tilesmay be supplied in many finishes, including honed, polished and tumbled. As the stone wears, the hole filler comes out, and the holes get filled with ugly dirt, soil and mopping water.
Working to the highest standard, restoration firms have specialist equipment and cleaners to get rid of soil and old sealer residues on a Travertine floor.
Once the Travertine floor tiles and any holes are cleaned, any holes are grout filled with a coloured grout. We then use a long lasting sealer that also helps make the Travertine floormuch easier to look after.
Limestone Cleaning Ketton
Eventually Limestone will loose its original shine. The dull appearance is due to microscopic scratching on the surface where it's been walked over. Sooner or later, the floor will need to be re-polished. We use industrial diamond polishing machinery to revive the shine.
Most Limestone floors are uneven because the tiles are not laid flat. The only way to make a Limestone floor perfectly flat is by grinding off the lippage and irregular edges of the tiles. Grinding Limestone floors must only be done by specialists. The Limestone looks "monolithic", appearing to be produced from an individual area of stone.
After grinding, the tiles and grout will be at the exact same level. An even Limestone floor is much simpler to keep up. There will be no grout lines to capture soil. If your Limestone floor has cracks or chips, we can repair them using resin fillers, colour matched to the Limestone. After we have assessed the Limestone, we will advise the very best Limestone restoration service.
Terrazzo Polishing Ryhall
Terrazzo is a nice-looking yet durable flooring, hence its popularity as a flooring in supermarkets, airports, commercial and industrial buildings. With time, Terrazzo will become dull and lose its finish. The change in the finish is caused by microscopic scratches on the surface where it has been walked over.
Terrazzo Polishing is the only way to bring back the original finish to the highest standard. We use diamond polishingto replace the original Terrazzo shine. We can help avoid this soil with Terrazzo sealers.
Granite Polishing Langham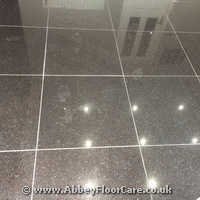 Granite is a popular tile flooring. Granite is exceptionally hard.Granite is regularly selected for the product's hard-wearing attributes. Granite Tile resists wear longer than other natural stones, like limestone or marble.
Granite is so hard, that lots of companies don't have the equipment or knowledge to revive granite floors. Our Company will restore all forms of granite flooring. to the highest standard.
Sandstone Cleaning And Sealing Whissendine
Sandstone floor tiles are offered in a number of different shades of brown, red, yellow and cream. The voids amongst the sandstone particles trap soil that can be hard to get rid of.
There are dedicated coating removers, rotary scrubbing apparatus and pressure rinsing to get rid of the layers of old sealer We then apply a long-lasting sealer that also makes your floor more straightforward to clean. After inspecting the floor, we are going to advise the best Sandstone restoration service.
Slate Cleaning And Sealing Cottesmore
Slate is an extremely popular floor and wall tile due to its low porosity and the many textures and varieties of Slate available. Though slate has a low porosity, it will probably still partly absorb and oil based spills, leaving irritating marks.
There are specialist machinery and chemical treatments to eliminate the soil and old sealers, reviving the original slate finish. Once the professional cleaning is finished, then use professional sealers that last for many years not just months.
If you want a smooth floor, we can grind the floor, subject to your slate being suited to grinding.
Terracotta Cleaning And Sealing Market Overton
Terracotta has got a distinctive coloring and a rustic feel in your home, but demands careful maintenance to keep it looking its best.
Harsh cleaning chemicals such as standard floor cleaners and bathroom tile cleaners can damage and mark Terracotta.
Cleaning and restoring terracotta tiles starts with taking away the old polish, sealers and embedded soil with industrial-grade coating removers and cleaning chemicals.
We could re-wax the Terracotta or apply a hard wearing synthetic sealer that is much easier to maintain.
Victorian Minton Tiles Cleaning And Sealing Empingham
Victorian Clay Tiles are installed in lots of Victorian and Edwardian hallways.
The tiles have a matt finish and obtain their colour through the clay found in their manufacture.
Along with the changes in residential design, many of these floors come with underlay from carpet, lino adhesive, bitumen and other sticky deposits.
Cleaning these floors could be challenging due to all of the old sealers and covering residues.
A colour intensifying sealer is put on after cleaning, to replace the original colours when you look at the tiles. If you like a sheen or gloss finish a surface sealer or wax could be applied.
Cleaning Quarry Tiles Edith Weston
Quarry tile floors were once a major feature in terraces and farmhouses in the country, but some of the floors have fallen into various states of disrepair.
Years of ground in dirt and old sealers often leads many people to believe their tile floor is past repair, but that is often not the case.
Professional cleaning can get rid of the years of grime and old coatings, exposing a lovely floor. When the quarry tiles have been cleaned they may be sealed to give years of life.
Porcelain Tiles Cleaning And Polishing North Luffenham
Porcelain is a kind of ceramic tile.
Quality Porcelain has very low porosity, which means less stains, less water damage, and less need for sealing.
If Porcelain isn't properly produced, the surface can be absorbent just like natural stone floors. This soil could be difficult to remove.
You need specialist equipment and cleaning solutions to remove this soil.
We will help minimize this soil using Porcelain sealers.
Solid colour Porcelain Tiles could be ground and polished, similar to Granite or Marble.
Ceramic Tile And Grout Cleaning Service Greetham
Professional cleaning of Ceramic tiles is usually a bit less complicated as compared to stone floors cleaning and restoration..
This is because the top of the tile is normally glazed.
None the less, professional cleaning, professional cleaning solutions and machinery will provide the most effective results.
As soon as your tile is cleaned we'll apply a tile sealer. Care is much easier by having a sealed floor, additionally a sealer stops spills transforming into stains.
Cleaning and Restoring Stone Floors. Exton
Natural tone tile cleaning is rarely cleaning alone, there is certainly commonly added restoration required. Natural stone floor restoration can take many forms. Natural stone floors have problems with foot traffic wear and damage, because individuals walk on them. The most typical issue we meet during stone restoration is greasy dirt scuffed to the surface producing a unexciting, unattractive finish. Highly polished floors like terrazzo, marble and granite show surface damage much faster once the polish gets dull from foot traffic marks. A surface sealer does not prevent permeable stone and tiles like Sandstone, Limestone & Terracotta eventually suffering from wear and spill damage.
Nearly all stone flooring have cementatious grout lines. Cement grout is softer than stone and more vulnerable to abrasion and chemical based wear and tear. Stone restoration more often than not includes some crack and hole repairs.
We use resurfacing to take away stone finish damage brought on by etching and scratch damage.Natural stone has the appeal that a grubby, porous surface can be taken away, uncovering an attractive new surface.
Diamond Polishing Stone Tiles
With time your floor can look dull and loose its luster and shine. Scratches and acid etching marks developing and taking off the initial shine. The best way to revive the initial finish is by polishing the floor.
Our team use the highest standard diamond polishing equipment to hone and polish Granite, Terrazzo, Polished Limestone and Polished Travertine floors, and recover the initial finish. Gloss sealers produce the shine on Honed Limestone, Sandstone, Clay, Slate & Honed Travertine tiles. The old, dull sealer is taken away and a fresh gloss sealer is used to produce the high shine.
Stone Floor Cleaning Rutland
And Throughout The Country
Local Information
Coordinates: 52°39?N 0°38?W? / ?52 .
650°N 0 .
633°WRutland is a landlocked county in the East Midlands of England, bounded to the west and north by Leicestershire, to the northeast by Lincolnshire and the southeast by Northamptonshire .
Its greatest length north to south is only 18 miles 29 km and its greatest breadth east to west is 17 miles 27 km .
It is the smallest historic county in England and the fourth smallest in the UK as a whole .
Because of this, the Latin motto Multum in Parvo or "much in little" was adopted by the county council in 1950 .
It has the smallest population of any normal unitary authority in England .
Among the current ceremonial counties, the Isle of Wight, City of London and City of Bristol are smaller in area .
The former County of London, in existence 1889 to 1965, also had a smaller area .
It is 323rd of the 326 districts in population .
The only towns in Rutland are Oakham, the county town, and Uppingham .
At the centre of the county is Rutland Water, a large artificial reservoir that is an important nature reserve serving as an overwintering site for wildfowl and a breeding site for ospreys .
Rutland's older cottages are built from limestone or ironstone and many have roofs of Collyweston stone slate or thatch .
Examples of Stone Floor Restoration Projects
Quarry Tiles Cleaning And Sealing Project In Oakham Rutland
Town: Oakham
Stone: Quarry Tiles
Days: 2
Read More
This quarry tile floor in Oakham had been under the carpet and underlay for at least 50 years. After lifting the carpet, the tiles had a visible coating of hard efflorescence that looked like cement. In some places, the efflorescence had damaged the surface of the tiles. The homeowner wanted to restore the quarry tiles