7 Steps To Cleaning Victorian Tiles – A Homeowners Guide
Can old tiles be cleaned? Is a question we often get asked about Victorian encaustic tile floors. Yes you can, if you have the right materials, time and patience. Read on to see our 7 step guide to victorian tiles cleaning.
Cleaning Victorian Tiles – Learn how to restore and clean Victorian and Edwardian encaustic tiles with this helpful guide.
Victorian tiles were first introduced in the 1800s and come in many different shapes, sizes and colours.
While there were a lot of manufacturers, The Minton, Hollins, & Co were one of the first and more influential companies in the development of encaustic tiles.
And to this day, these tiles are often referred to as Minton tiles.
From the 1880s onwards geometric and encaustic tile floors became popular features in the homes of the middle classes.
Minton floors contain plain tiles and encaustic tiles.
You often find more wear from heavy footfall in the earth colour plain and encaustic tiles compared to the highly pigmented tiles; back, blue, white and green tiles.
Glazed ceramic tiles are rare in ordinary house floors, as most floors used unglazed tile.
These types of tiles fell out of style during the 1960s and 1970s.
Lots of the floors were covered with carpet and suffered substantial damage from the dreaded carpet gripper nails, or service engineers installing new pipework under the flooring!
Now, however, they are being rediscovered by their current owners.
If you have a Victorian or Edwardian hallway floor, after 150 years, it is unlikely that your tiles are in perfect condition.
 Steps To Cleaning Victorian Tiles
A big part of maintaining vintage floor tiles is understanding how to clean a worn tile floor.
Believe it or not, poor cleaning can damage your floor.
Understanding how to clean victorian floor tiles will help you keep your floor looking beautiful for years to come.
1. Prepare The Area For Cleaning
Remove all free-standing furniture. Dry sweep the tiles or use a vacuum cleaner to remove dry soil and grit from the tiling.
2.  Remove Old Waxes And Coatings
The key to successful tile cleaning is patience.
To strip off waxes and water based acrylic sealers use a sealer remover.
LTP Solvex and Lithofin Waxoff are excellent products.
Both will remove most types of sealer and wax coatings.
They also remove paint, which is great as floors often have paint spots, but not so good as they will remove paint from skirtings.
So if you are using these products, protect your skirting with 2 inch low-tack masking tape.
I suggest spreading the sealer remover with a natural hair paint brush, not a synthetic brush.
If you can't get a natural hair paint brush, a cheap natural hair dust brush will work fine.
Before you start, test your cleaning method on a small area to ensure it works and that you are comfortable with the process.
Apply the product to the floor and leave it for 10 to 20  minutes so it can soften the sealer.
Work in manageable sections because the chemical may soak into the tile and you need to keep the surface wet.
Scrub the area with a green or black cleaning pad.
If you are hand scrubbing, wear protective gloves.
If the sealer is coming away, continue until all of the old sealer residues are removed.
If you have worn tiles with a dished surface, or old coatings stuck in grout lines or chips, you may need to repeat the process a number of times.
As  I said above, these products are potent chemicals, they will act as a paint remover, so be careful near skirting boards and any standing furniture edges.
Scrape off thick residues with a plastic blade into a black rubble sack.
Remove the remaining residue using clean warm water, a sponge and then dry with a cloth or towel.
Then rinse a couple of times with an alkaline cleaner like LTP Grimex, diluted 1 to 10 with clean water.
A wet-dry vacuum machine will prove helpful and save in cloths.
Finally, rinse thoroughly with clean hot water and dry cloth or a wet vacuum cleaner. Allow the floor to dry completely before applying further treatments.
If you have glue from carpet grippers or paint residues, LTP Solvex or Lithofin Wax will help to remove them.
If you have cement or grout haze (grout smears) is present use LTP Cement, Grout & Salt Residue Remover.
Extract the solution with a wet-dry vacuum cleaner and then rinse thoroughly with clean water and vacuum again.
In most cases, removing the surface coatings will also clean the tiles.
However, if you don't have surface residues, then you can use less aggressive cleaners.
Some sealers are very difficult to remove, especially solvent-based acrylic sealers.
If the sealer removers won't remove it, you probably have If you have such a sealer on your tiling.
If you have one of these sealers, you will need to call on professional help.
I carry a range of specialist sealer removers, yet sometimes it can take me a long time to remove these sealers from a small floor.
Looking for Professional help? Contact Us Now!
Our Stone Floor Restoration Experts Will Make Your Floors Look Beautiful!
3. Cleaning Dirty Victorian Tiles
Clean soiled tiles and stubborn stains with an alkaline cleaning solution tile cleaner like LTP Grimex and dilute according to tho the manufacturer's instructions.
Apply the detergent to the tile surface and leave for 10 minutes, this is called the dwell time.
Work in manageable sections, because you need to keep the area wet with cleaner, so keep re-applying the cleaner if it soaks into the tiles.
Then agitate with a hand scrubbing brush, a deck brush or a black scrubbing pad to remove the dirt.
If you have a slow-speed buffing machine, cleaning victorian tiles will be quicker to remove dirt from tiles.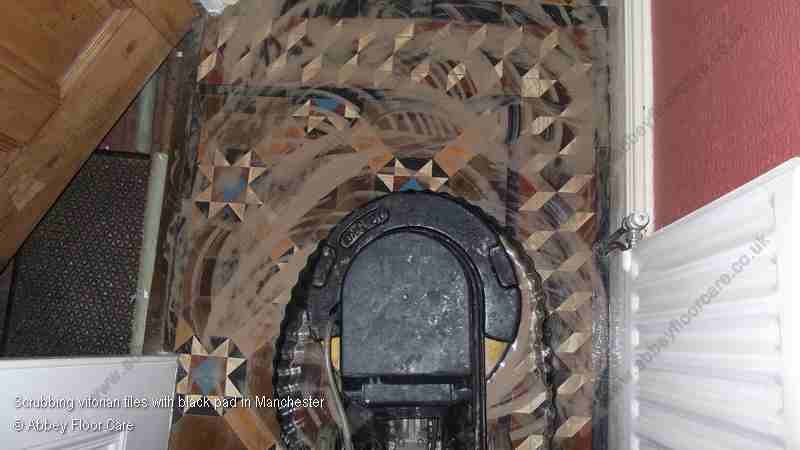 When you use a black or green scrubbing pad, don't be too aggressive as earth colour tiles are soft and you don't want to wear away the surface of the tile.
Remove the soiled solution with a dry cloth, or preferably,  a wet vacuum cleaner and then rinse thoroughly with clean water and wipe with new towels or vacuum again.
After cleaning, the earth-coloured clay tiles will probably look faded. This happens on this type of tile as the original tiles wear and the colours can be brightened with a sealer.
4 Treating Efflorescence On Victorian and Edwardian Tiles
Victorian hallway tiles were usually laid on a wet lime cement, without a damp membrane.
However, I have come across tiles laid on bricks and mud! Damp and salts (efflorescence) issues are quite common with these floors.
This is exacerbated where a floor has been covered for years, preventing the floor from breathing.
The cleaning process can activate dry salts in these antique tiles, which become apparent as the floor dries, leaving white marks.
If you come across this issue, apply an acid salts residue remover containing sulphamic or phosphoric acid to remove the surface salts.
Apply the treatment as per the instructions, allowing the recommended dwell time and then rinse with clean water and remove with a dry cloth or wet vacuum.
You may need to re-treat the floor in two to three days time should the salts re-appear.
Do not start sealing until all the white marks have disappeared and repeat
N.B. Always rinse surfaces thoroughly with cool clean water.
As I discussed earlier,  original Victorian hallway tiled floors were fitted without a DPM (damp proof membrane).
So after deep cleaning the floor should be allowed to dry for several days,  (especially during winter time and following periods of high rainfall).
You can use a damp meter to test your floor for dryness.
5. Sealing Victorian Tiles
We recommend first applying a coat of colour-enhancing impregnating sealer, like Lantania Avo.
These sealers have colour-enhancing polymers that will improve the look of faded tiles, often restoring the original colours.
The sealer is absorbed into the tile just below the surface, sealing the microscopic pinholes and open fissures.
These sealers are microporous, which means they repel surface moisture and help prevent stains,  but allow water vapour to pass through, allowing the floor to breathe.
Apply the seal generously according to the manufacturer's instructions and work it well into the surface.
Remove any excess sealer that has not been fully absorbed within 20 minutes using a lint-free cloth.
Leave the sealer to cure sufficiently before applying a second coat.
An impregnating sealer can be walked over within a few hours, however, they need up to 3 days to fully cure.
If you prefer a natural, matt finish, your job is done.
If you prefer a satin or gloss finish, you can use a liquid polymer Acrylic like LTP Ironwax Satinsealer or a wax like LTP Clearwax over the impregnating sealer, to add a nice sheen or gloss finish.
However, there must be no moisture from damp or salts, as they will cause the sealer to bloom and lift and damage the finish.
After allowing the impregnating sealer to fully dry, you can start applying the Acrylic sealer.
Apply thin coats according to the manufacturer's instructions,  applying the 2nd coat at 90 degrees to the first coat.
Looking for Professional help? Contact Us Now!
Our Stone Floor Restoration Experts Will Make Your Floors Look Beautiful!
6 . Look after Your Victorian Floor Tiles With Regular Maintenance Cleaning.
Ongoing care is important to maintain the appearance of a Victorian tile floor.
Dry sweep or vacuum the floor to remove loose soil and grit.
Damp-mop the floor with the cleaner recommended by the sealer manufacturer.
If in doubt, use a ph Neutral friendly cleaning product like LTP Waxwash for floors sealed with an impregnating sealer or coated with wax.
If the tiles have been sealed with a water based topical sealer like LTP Ironwax satin, then clean with LTP Floorshine or just clean water until you have confirmed the right cleaner to use.
Do not use standard household cleaning products or washing up liquid.
Homes normally have a range of products that are not sealer friendly and will eventually weaken surface sealers and coatings.
Check the tile surfaces and if the coating or sealer is starting wear, clean the floor and top up the coating.
You can find a full range of products for cleaning victorian tiles
You can find a full range of products for cleaning victorian tiles here
7. Restoring Victorian Tile Floors
After 150 years, it is not uncommon to find tile floors with loose, cracked or missing tiles.
If there has been movement in the floor, you can have wide grout lines.
If you are handy, you can undertake repairs on original tile floors.
However, if your floor is in poor condition, possibly with substantial movement or a large number of missing tiles, we advise contacting a specialist.
I hope you have found this guide helpful, and I wish you well with your project.
Copyright © 2021 Abbey Floor Care. Natural Stone Floor & Tile Restoration throughout the UK.